Functional
Wellness
Beverage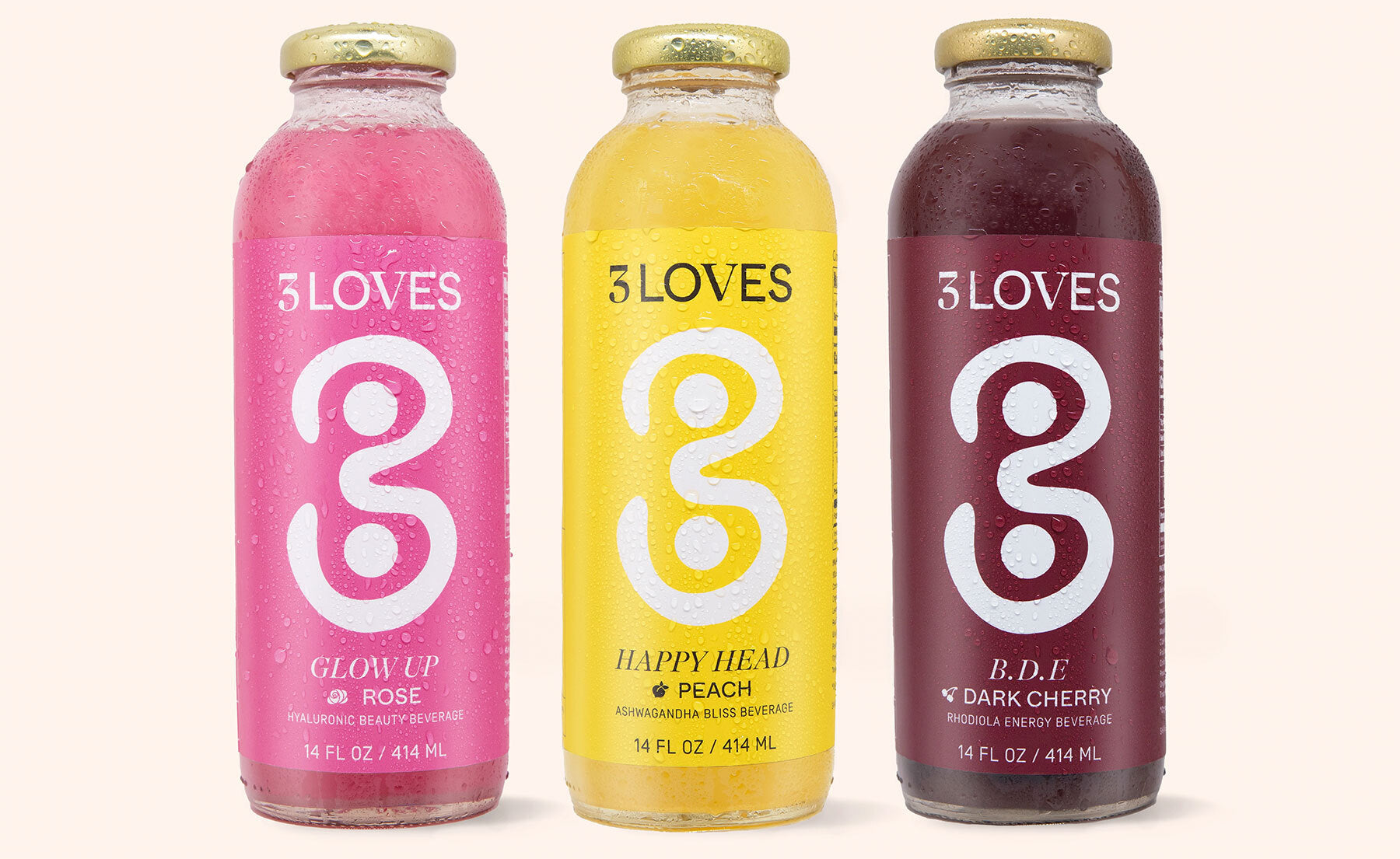 "To love oneself is the beginning of a lifelong romance."
—Oscar Wilde
1.
Glow Up
Drink Personality: Your Beauty Bestie

Functional Benefits:
Giving your skin a hydration hug
Putting wrinkles on a permanent vacation
Turning back the elasticity clock
Boosting your collagen's confidence
Maximizing beauty with 30 calories and 5g of sugar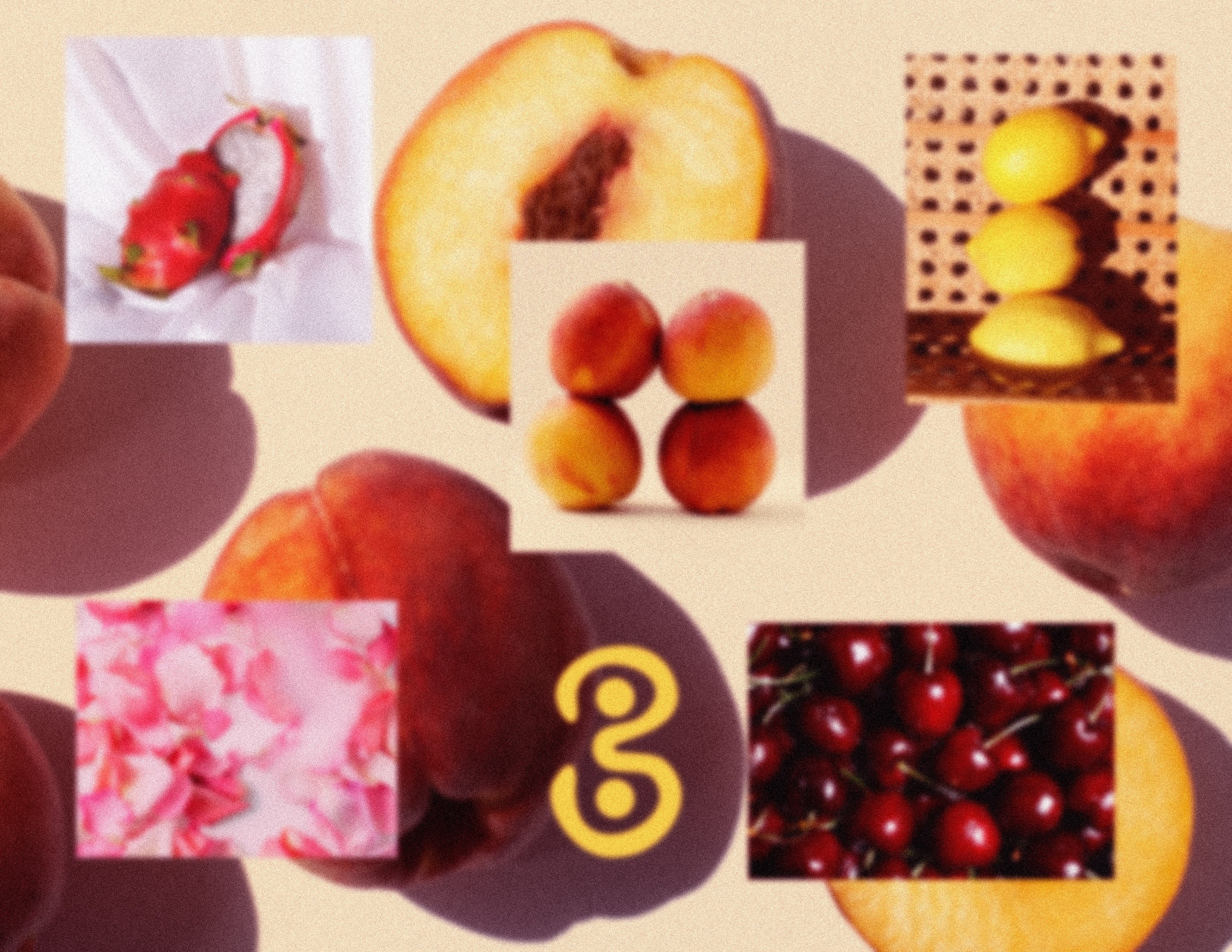 Liquid DNA
Each and every 3 LOVES product is uniquely designed with premium ingredients to give your body real benefits and an optimal sipping experience, every time. 
Adaptogens
A special blend of adaptogens is customized in every bottle to work with your body. These all-natural herbs that have been used for centuries in Chinese and Ayurvedic healing traditions and are still widely praised today.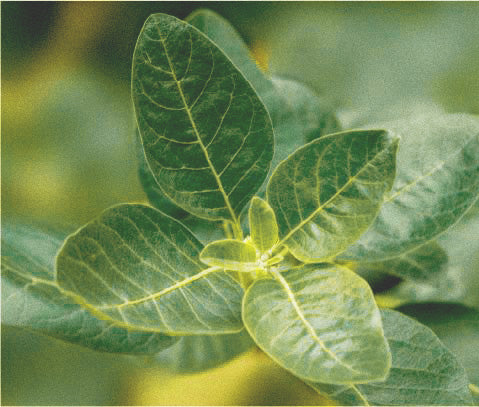 Ashwagandha
In Translation: More Wonder, Less Worry
Ashwagandha is a yellow flower native to India that has been used medicinally for over 6,000 years. Its roots help promote well-being for your brain and body, leaving you feeling, well, just like the name says. So by sipping 150mg of organic ashwagandha in every bottle of HAPPY HEAD you're bound to experience more wonder and less worry.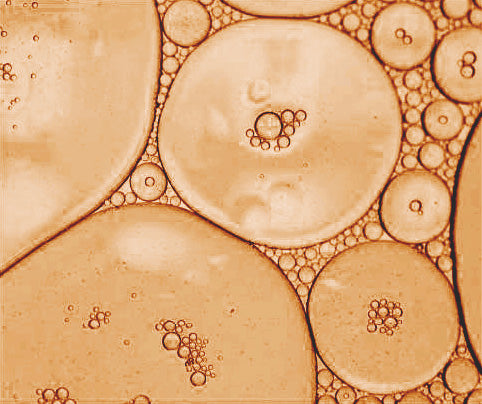 Hyaluronic Acid
In Translation: Your Beauty Bestie
Hyaluronic acid (also known as hyaluronan) is a substance naturally produced by your body. Adding a boost promotes multiple benefits for your skin which in turn can leave you looking smooth, supple, and oh-so-glowy. And with 116mg of Hyaluronic acid in every bottle, it's no wonder GLOW UP is your ultimate beauty bestie.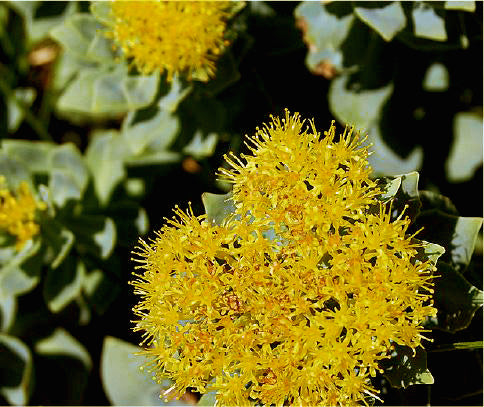 Rhodiola
In Translation: An Epic Burst Of Life
Rhodiola rosea is a perennial flower widely used as an all-natural energy source with a bounty of benefits. This plant-based ailment can help alleviate the everyday while finding your optimal self. That's why we packed 50mg of rhodiola in every bottle of B.D.E. Enjoy a burst of life in this delightful beverage. 
Organic
•
Vegan
•
Gluten Free
•
Kosher
•
Sustainably Sourced
•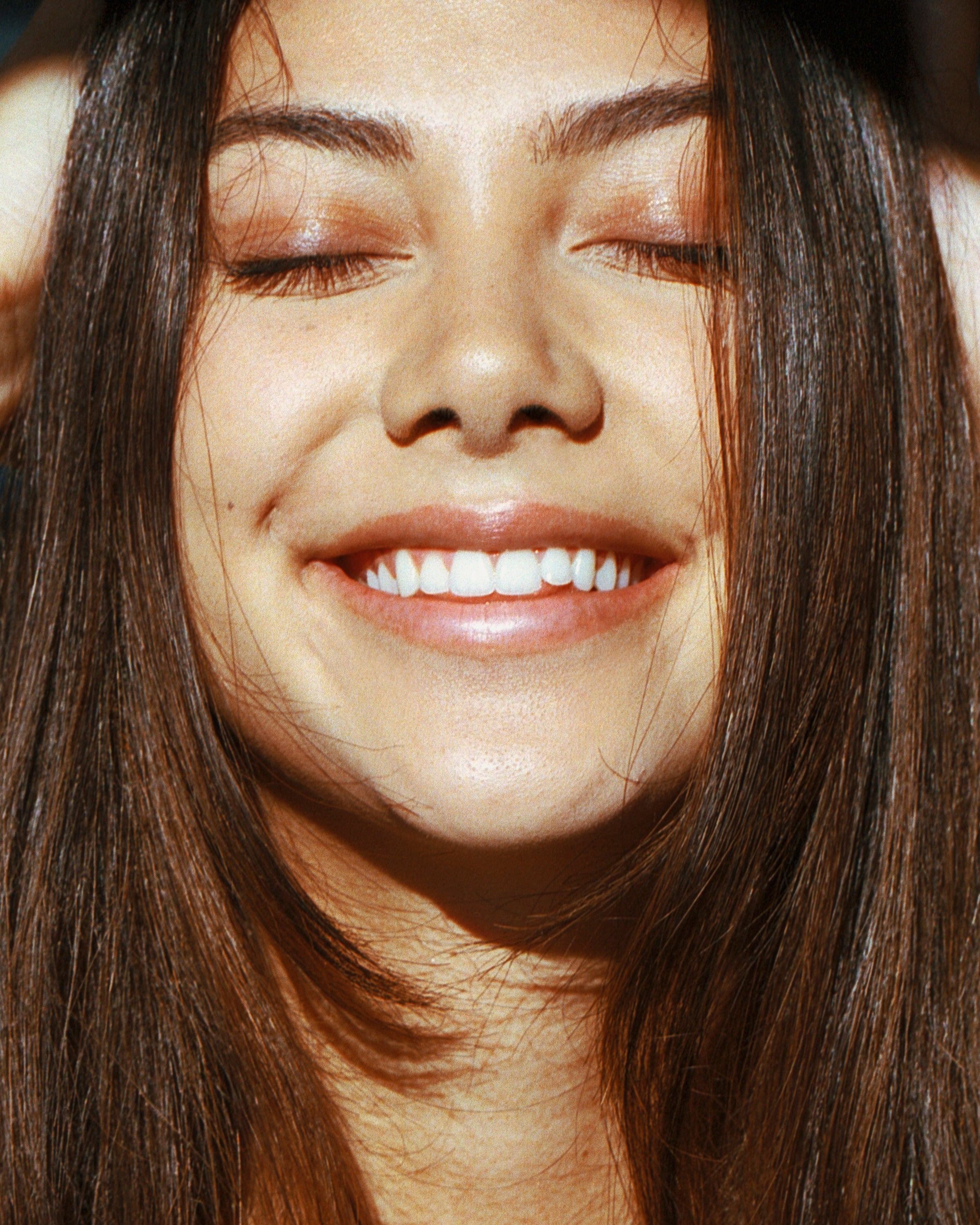 Our Story
Oscar Wilde once said, "to love oneself is the beginning of a lifelong romance." In other words, the journey to true love is never done. And that's what 3 LOVES is all about. We are a beverage and  wellness brand anchored in unlocking that universal superpower called love, and helping everyone around the world tap into it continuously and intentionally to fill their lives with purpose and joy. 

It's a journey that starts from within. And when you drink 3 LOVES beverages, you are nourishing your body with the highest quality ingredients and adaptogens designed to fill you with the self-love you deserve. 

Our vision is to redefine the beverage industry by bridging the gap between exceptional quality and accessibility. We are committed to simplifying what we put in our bodies and our lives by combining functional performance and wellness with superior taste and quality. Each and every product is researched and developed to deliver optimal health benefits and at the highest quality and taste.

At 3 LOVES, we are purpose-driven and believe that all companies should exist to contribute beyond themselves - just as we all should, as individuals. We believe that what you put out is what you receive, and that's what we intend to do with our products in the market.

Our mission is bigger than just us. We want to grow the wellness space with the motto that it's not a competition but a mission. We want to stand for higher standards and constantly strive to love ourselves, love others, and love our planet. 

Together, we can all be lovers.
Our Team
3 LOVES was founded in Spring 2020 by Xhesika Berberi (Pronunciation: Jessica). 
Xhesika has built her life around the practices of gratitude, affirmations, and setting intentions. As a former Miss Albania and model, she quickly learned the importance of treating her body, her mind, and her heart with love. Xhesika launched her first business venture: 3 LOVES – a whole, elegant beverage line for people seeking health/wellness and beauty from the inside and out.  
She is on a continuous journey to reach her ultimate state of happiness through love. And it is these shared values that she, and the rest of her growing team, want to spread to the world so that together we can tap into the universal superpower that is love: loving yourself, loving others, loving your planet. 
Are you a Lover? Want to join our team?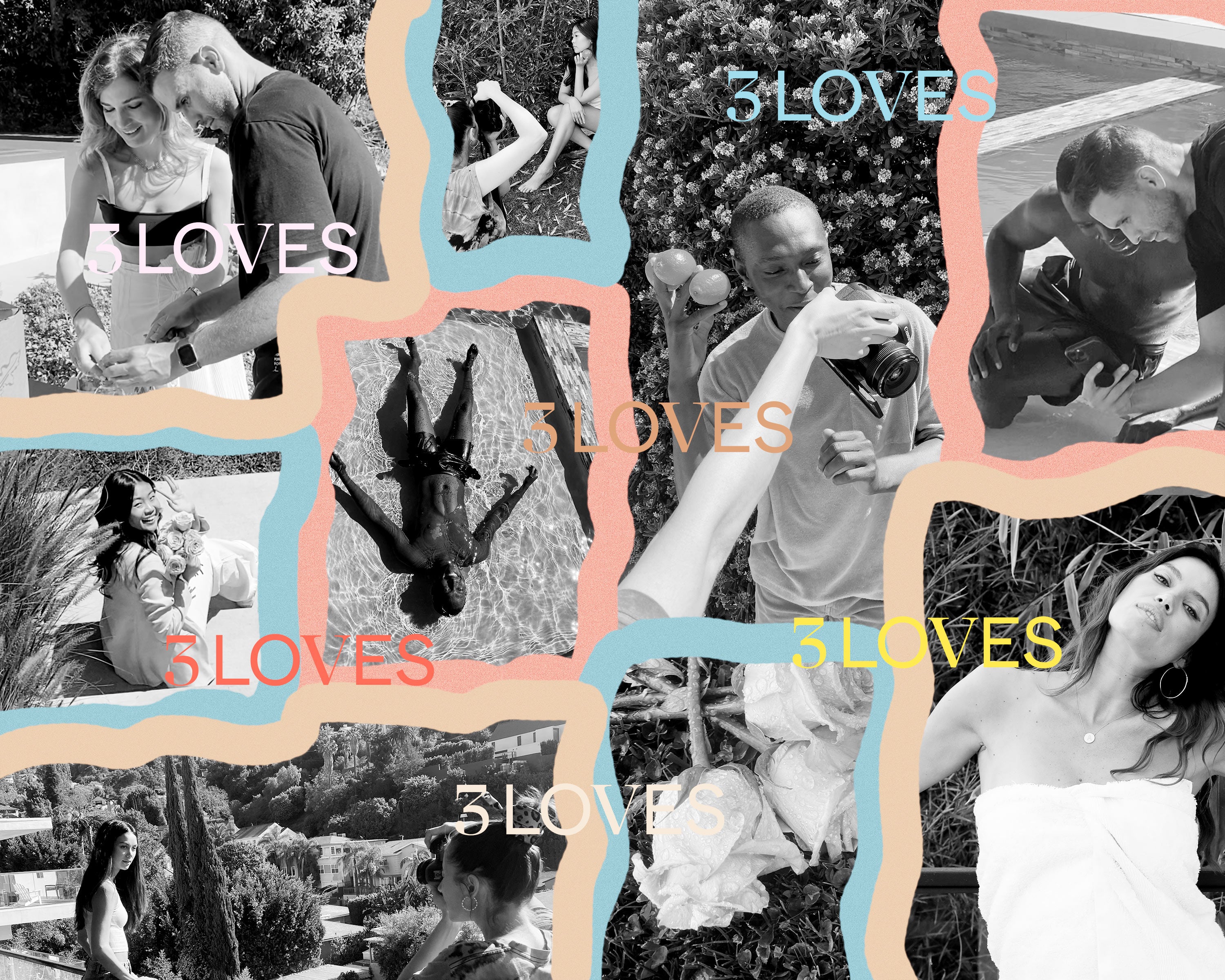 Welcome to our lovely home. Find a seat, get comfortable and take a peek behind the curtains.